Unique opportunities – comprehensive range of services
Publicity using airships enjoys a high level of sympathy and is extremely popular based on the outcome of surveys conducted with relevant target groups. Companies have realised this since quite some time and utilise the unlimited opportunities offered by this classical and attractive medium that becomes an eye-catcher wherever it appears and reaches a large target audience with its clear visibility.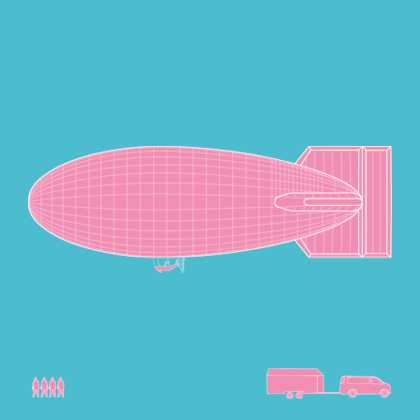 Complete system
Complete branding of airship envelope, airship gondola, trailer, towing vehicle and crew equipment.

air graphic cologne shall provide comprehensive consultation and advice to you regarding the various options available with airship advertising and will find together with you a solution that meets your goals and objectives. You may choose whether your ad message should adorn the entire airship along with the gondola and the towing vehicle, the complete envelope or a large banner placed on the airship.
Regardless of your choice, you need not worry about the specific advertising deployments. You merely need to tell us the place and time and we will take care of the rest. Our full service offer covers the entire planning and execution of the ad campaigns and tours, ranging from fetching and procuring all approvals required as well as location surveys, road transport and the operation of the airship with up to several starts per day, the provision of the entire crew and the compilation of monthly deployment reports.